At Start Creative, Peterborough, you can be confident your printed beer mats will be delivered fast.

Beer mats aren't just a practical addition to the table, you can utilise them to deliver powerful visuals and make a marketing statement. Whether you're looking to boost your brand or just want to wow your guests at an upcoming event, get people talking with beer coasters personalised to suit you.

Measuring at 103mm across, both our beer mat options offer the perfect space to showcase your logo, artwork or even a simple message.

With our high-quality printing available on both sides, there's plenty of room for everything you want to say. Delivery is free and we'll ensure your printed beer mats are at your door completely free of charge.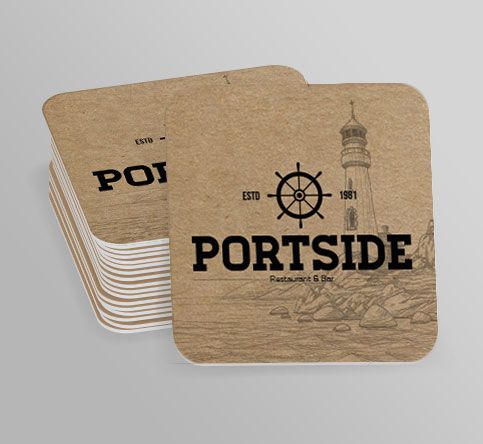 Luxurious and vibrant, our Bookmarks are ideal gifts for both clients and customers. All Bookmarks are trimmed to A7 Strip (148 x 52 mm) and are available in a variety of paper types.

A necessity for book lovers the world over, Bookmarks can also serve as a handy marketing tool. Give your prospective and returning customers a gift that really means something with a branded, one-of-a-kind bookmark, adorned with your company's design and logo. Available in one or two sided full-colour print and on silk, gloss or pulp finishes, bookmarks make great corporate gifts, promotional aids and, of course, are pretty good for saving your place in a book!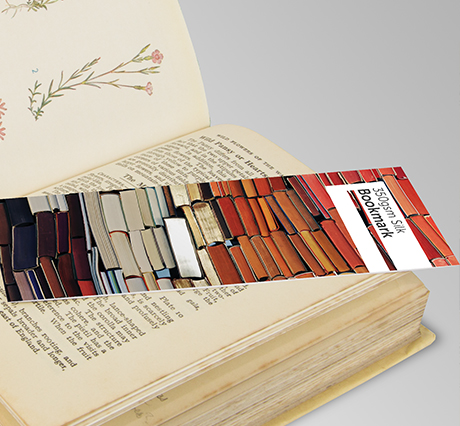 Loyalty Cards
PROMOTIONAL
Loyalty cards are a great way to show your customers you care. With Start Creative's exciting range of loyalty card designs, available in a wide range of sizes and with stock delivered free to your door, your eye-catching cards will keep your customers coming back for more.

Our loyalty card printing service is available in full colour on silk, gloss laminated, matt laminated, pulp, triple layer or kraft paper – it's up to you to decide which best suits the look and feel of your small business. Whether you're topping up customers' caffeine levels with a free hot beverage, or offering your regular readers rewards for adding to their book collections, they'll appreciate the opportunity to grab a discount and the inclination to visit you again.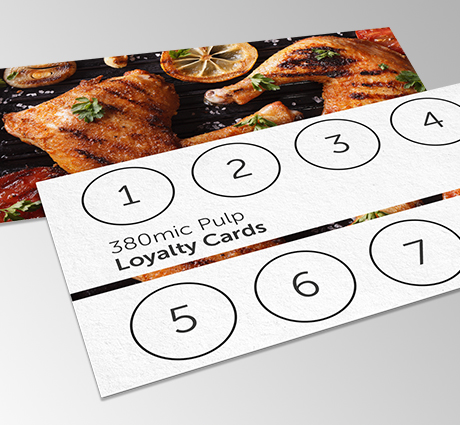 Available in a large variety of paper and weights, Start Creative, Peterborough, will be able to design and print a table placemat that you and your customers will love!

Our full colour printed Placemats are available on a wide range of stocks to suit every occasion. Available in sizes A3 and A4 and with the choice to print single or double sided; they are the perfect way to bring your own unique designs into your bar, restaurant or even impress your next dinner guests in your own home.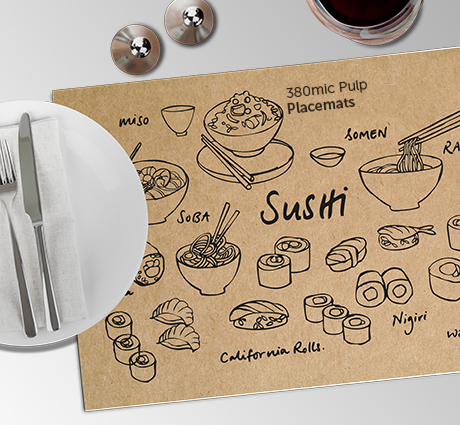 Give your stunning artwork or corporate mark a more personal twist when you present it on one of our fantastic selection of Postcards. Printed onto thick card and laminated on one side as an optional extra, these are extra sturdy and look great in striking full colour.

In a world congested with email, sometimes it's refreshing to convey a message with a more personal touch. Reach out to your clients and loved ones in style and showcase your artwork with our charming range of Postcards. Available on Gloss, Silk and Pulp finishes, they come in a variety of sizes, styles and finishes to ensure you get your message across in a way that resonates with your brand and captures the imagination of your target audience.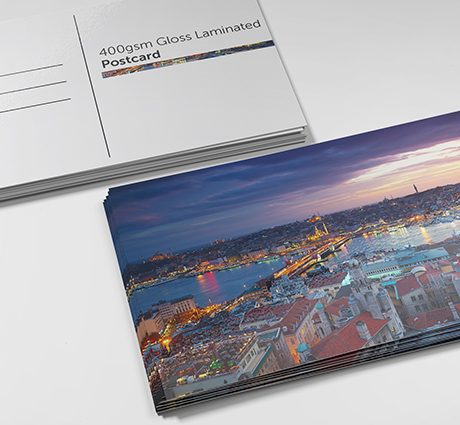 Stickers and Labels
PROMOTIONAL
Whether you want to boost your brand presence in a unique way, or leave a memorable mark in a customer's mind after they've made a transaction, our sticker and label printing services are your chance to make a statement.

Promotion is an essential part of any business and of all the ways to make your brand presence felt, there are few things more effective than slapping a sticker on your products or premises.

Many shops offer gift wrapping whatever the time of year – be it birthdays or Christmas, your customers can save time and hassle by getting their purchases all wrapped up. So why not add your own personal touch with a custom sticker? When their purchase arrives through the post, you can leave customers with one more added touch – a personalised return address label.

Adding stickers instore is a bright and breezy way to attract customers to certain shelves within your shop – as part of a promotional display or customer announcement, your very own choice of sticker design can draw more attention. Just pick from the selection of custom sticker and label types, submit your own design or leave that to us.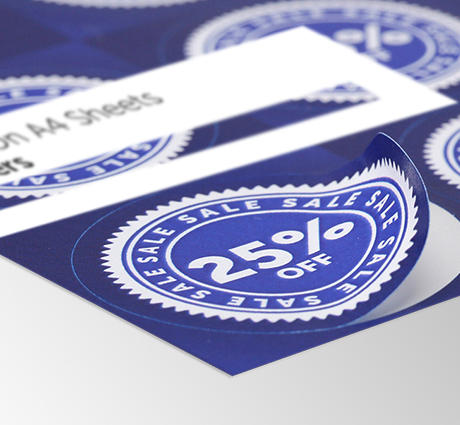 A simple yet elegant way to spread your message, printed full colour onto a sturdy, ultra thick 2000mic display board, with a heavy duty fold away strut attached to the rear.

Strut cards are a perfect way to promote your services and will look great anywhere. Their simple yet elegant design make them a popular choice for a wide range of our customers who require an affordable way to convey their message.

Strut cards are ideal for Menus in cafés, restaurants and Bars; Special Offer Boards in shops; Product Information on displays or exhibitions or even Free Wifi notices in coffee shops. The possibilities are endless!

Our strut cards are printed full colour onto ultra thick 2000mic display board, with a heavy duty fold away strut on the back.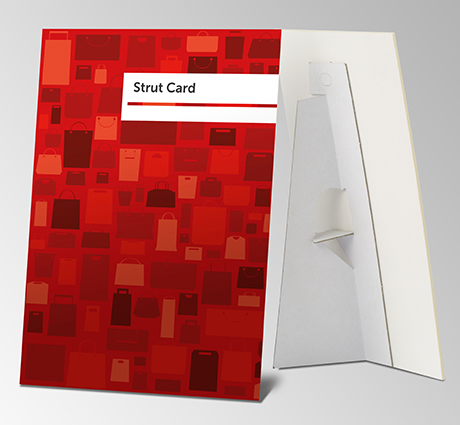 If you're trying to tell shoppers that some of your items are discounted or just want to notify them of the cost, size, or care instructions, swing tags are the ideal solution to this problem and at Start Creative. Peterborough, we can print them onto a variety of stocks, inluding our fantastic 810gsm triple layer card.

If you're a retailer, you'll know that every product has its price. Making it known how much something costs is a must, as is the size of each garment. This is where swing tags can come in handy.

Our swing tags can be used for clothes labels, tickets, or gift bags, to name just a few examples. They come in either silk, gloss, or pulp card and are printed in full colour on both sides.

Each tag also has a 5mm hole drilled in the position of your choice, where you can insert your own string or ribbon.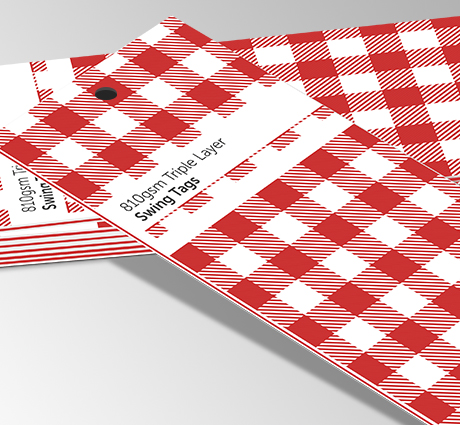 Table Talkers
PROMOTIONAL
Our popular Table Talkers are a hit amongst restaurant and bar owners because they're a fast and effective way to promote the latest menu items or promotions. At Start Creative, Peterborough, we have several paper options to choose from to get your message across.

Spark conversation with some eye catching table talkers, perfect for doing the talking for you. With a whole variety of durable, vibrant finishes, there has never been a better way to spread the word.